Ecommerce platforms like Shopify rely on a well-organized database to power and oversee all system and app interactions.
However, many wonder how to access Shopify databases directly. Simply, you can't. Instead, connect a Shopify custom database for a single source of truth (SSOT). Building an ecommerce business would be impossible otherwise.
The best Shopify database to consider:
But which is the right Shopify custom database? Let's dig in.
Why Use a Shopify Database?
Databases are used by small organizations and large websites serving millions of people daily. A database stores, analyzes, and tracks information about a company's inventory, orders, and customers.
Merchants streamline data storage by integrating their Shopify app databases. This is wise. Shopify businesses rely on third-party applications for 87% of their operations, while Shopify Plus merchants have an average of 20 applications installed per store.
A single, centralized database is key. Storing data in a single location reduces the chance of data loss since it is easier to keep it secure.
The use of data in the decision-making process of businesses is essential. Data must be accurate, up-to-date, available, consistent, and securely accessible in order to make good decisions. This ensures that all parties involved use the database as the single source of truth.
Shopify App Databases
Organization use data differently which determines the Shopify custom database best suited for them:
Data by MESA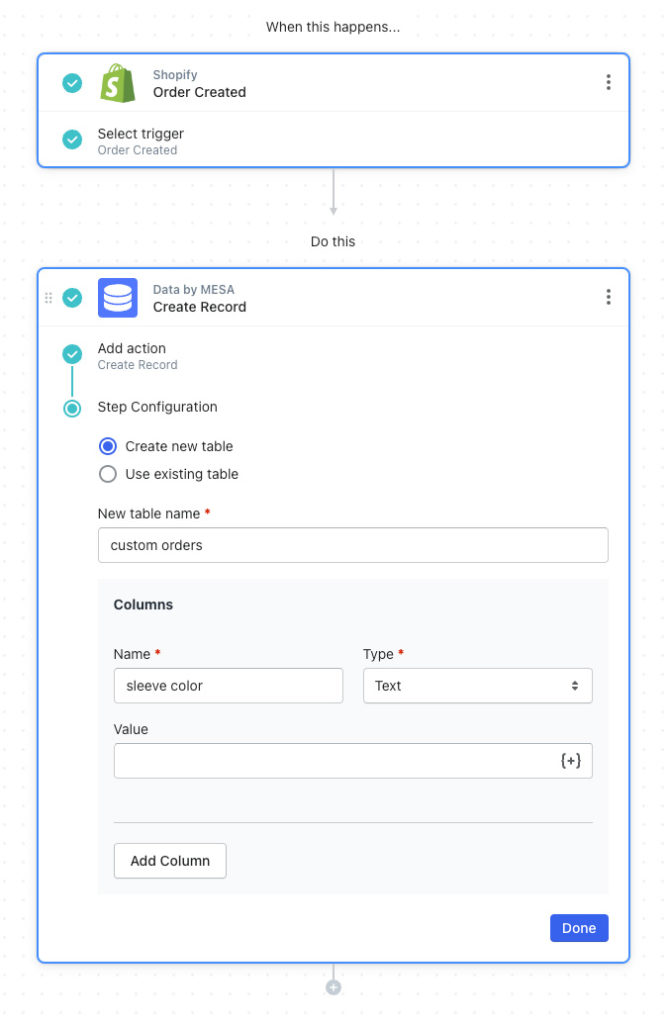 Store and retrieve any data in Data by MESA. This makes MESA the hub of your business information. Bring all your Shopify data together without the need for costly stack solutions.
From any automation, you can query, create or update records in Data by MESA. This allows you to integrate any kind of data, creating workflows to accomplish the task at hand.
Data by MESA makes custom app integrations easier. Store data, manipulate it as needed then move it to its final destination.
Those with more technical expertise can utilize other built-in MESA apps to make their automation truly unique:
Code by MESA is a built-in app that applies complicated logic to any Shopify automation. Write your own custom code, and then let it execute in response to any event. Coding directly in MESA also eliminates hosting issues.
Forms by MESA, another built-in app, is perfect for collecting information anywhere on your Shopify store. Forms allow customers to submit information, sign up for promotions, or just contact specific departments, such as Returns & Exchanges or General Inquiries.
Data by MESA eliminates manual, data-entry tasks. It's the right integration tool to centralize any data from any application on your Shopify store.
Airtable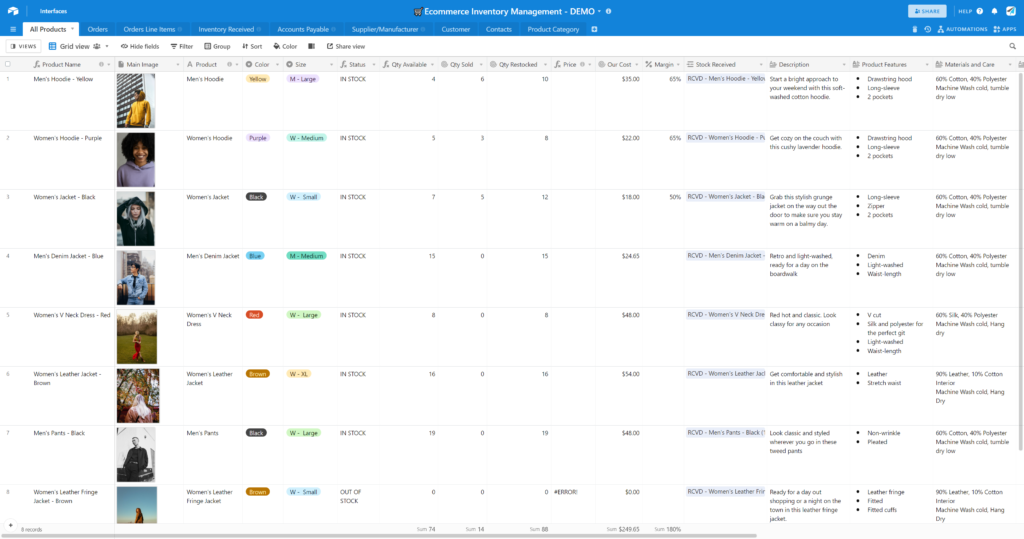 Airtable is a powerful, no-code database with a familiar spreadsheet interface. Its colorful, fun approach makes it appealing to many. It is core to many no-code applications and businesses that love the ability to easily update single-row data records.
There is a steeper learning curve for newbies. The program may be difficult to use even if you're well-versed in Excel. To be more specific, spreadsheet columns need to be explicitly defined based on the type of data being stored. Changing them can easily break integrations if you're not aware.
Creating formulas isn't intuitive either despite being designed to work like a spreadsheet.
Cost can become an issue. Even the most expensive plan won't work if you have more than 100,000 records in your Shopify database. If your integration becomes too sophisticated, expands in size, or runs for too long, you'll need to use multiple databases.
Google Sheets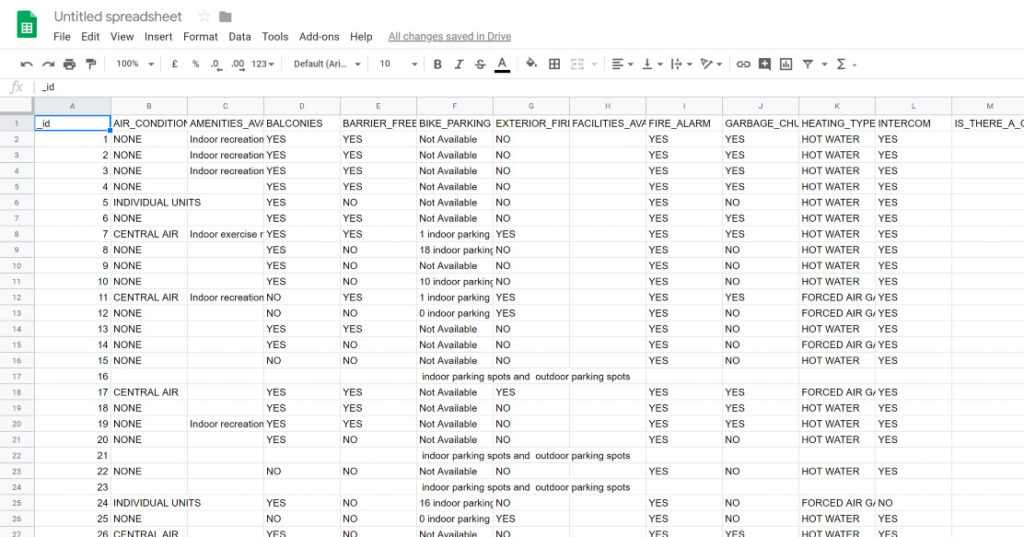 Most companies still use Google Sheets as a Shopify custom database, especially for storing sensitive data and important information. Google Sheets is well-known by both technical and non-technical users alike.
One main advantage is that Google Sheets is widely accessible and generally free for most businesses. It is also available on the cloud, offering a wider range of capabilities than a normal spreadsheet.
Google Sheets is great for group work, but it's difficult to discern who made changes to a cell when everyone on your team can contribute. If an error occurs or anything goes wrong with a sheet, it is challenging to identify who was responsible.
It's also difficult to build integrations that require updates. Queries that identify a specific row are difficult to make. There's no easy way to identify a single row by an attribute. Complex logic is required. Google Sheets is fine for storing data but needing to manage that data too is where Google Sheets falls short.
Connect to a Shopify Custom Database Today
Maintaining a single source of truth is important for scaling businesses. Creating an SSOT means businesses are moving in the right direction based on accurate data across the entire company.
Business leaders need to make data-driven decisions based on accurate sources that include all teams in the business, not just individuals.
Data by MESA helps Shopify brands do just that.
Our experts will make your workflows. Just ask!
Whatever challenges you're facing with your Shopify store, let our team of experts create a workflow that gets more done.
Start For Free
New Shopify Apps Weekly Newsletter
We watch for new apps then package them into an email sent every Tuesday.

Yopto
Marketing

Shopify
Commerce

Segment
Productivity

Infinite Options
Productivity

Slack
Productivity

Etsy
Commerce

Discord
Productivity

Bold Commerce
Commerce

Tiktok
Marketing

Airtable
Productivity