MESA is an ecommerce automation platform with solutions for every aspect of your business, from inventory management to customizing order notes. Seamlessly connect your Shopify store and accompanying apps to a free template library of popular fulfillment workflows within minutes.
*** Before reading on, if you haven't installed MESA already, click here and enjoy the benefits of a 14-day free trial. ***
###
Using MESA, this tutorial will show how to export delivered order and fulfillment details from our order tracking app, Tracktor, into Google Sheets in a few quick steps.
Start with our workflow template:
Step-by-step instructions:
1. On your MESA dashboard, type in "Export Order And Fulfillment" in the Search apps and templates field and select the template from the drop-down menu.

On the next page, click the green Start with this template button in the top right-hand corner.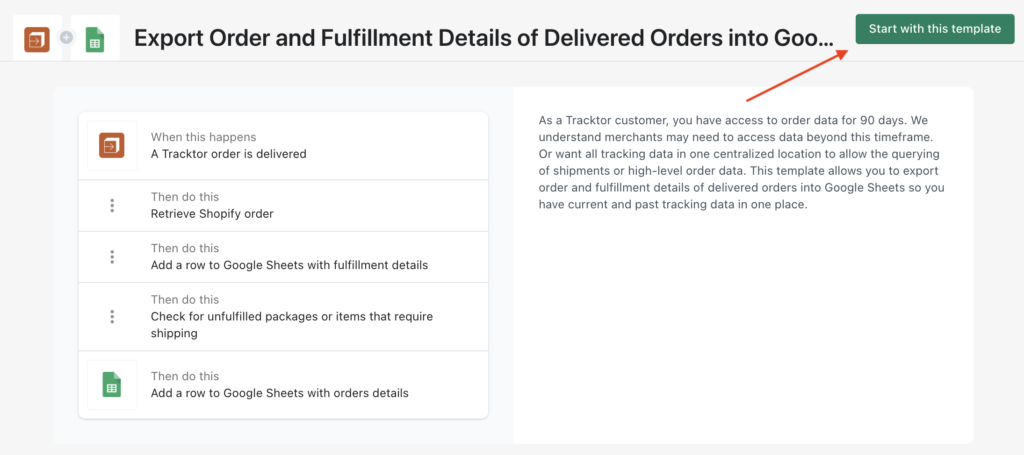 Confirm that you want to Install the template, once loaded you'll now be able to View the New Workflow.

2. Under Setup Instructions, click the View this Google Sheet and Make A Copy on the next window.

Now might also be a good time to change the title of your Google Sheet from "Copy of Order and Fulfillment Details of Delivered Orders," to something more specific to your brand. You'll need to reference it later.

The first step in the workflow will trigger when a Tracktor order has been delivered.

In the next step, the Shopify order associated with the delivered product is retrieved.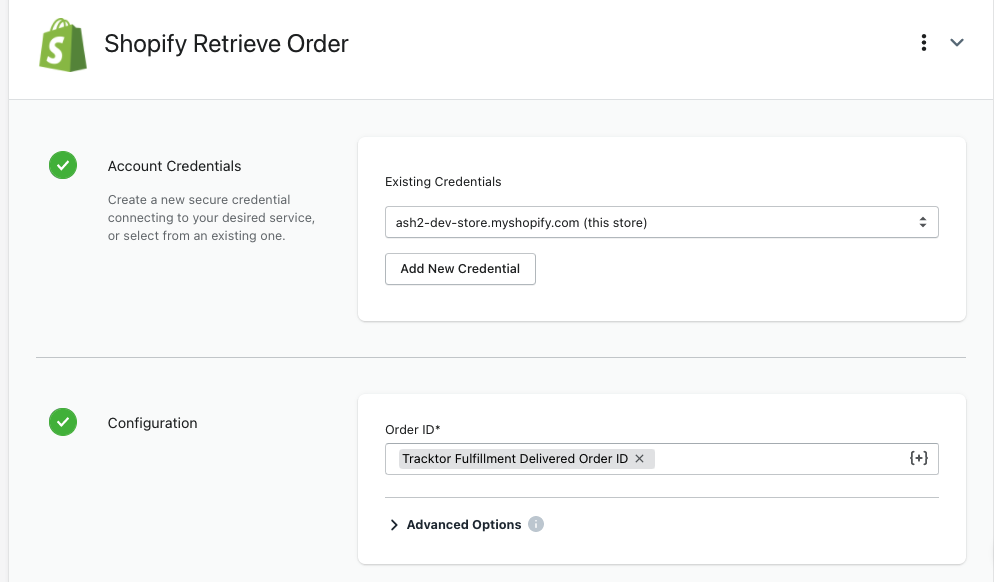 3. You'll now need to create a Credential and Authenticate it with Google in the Google Sheets Create Row – Fullfilments step. Under Configuration, you'll update the Spreadsheet* with the title you choose in Step 2 and also assign the Sheet Name* to "Fulfillments".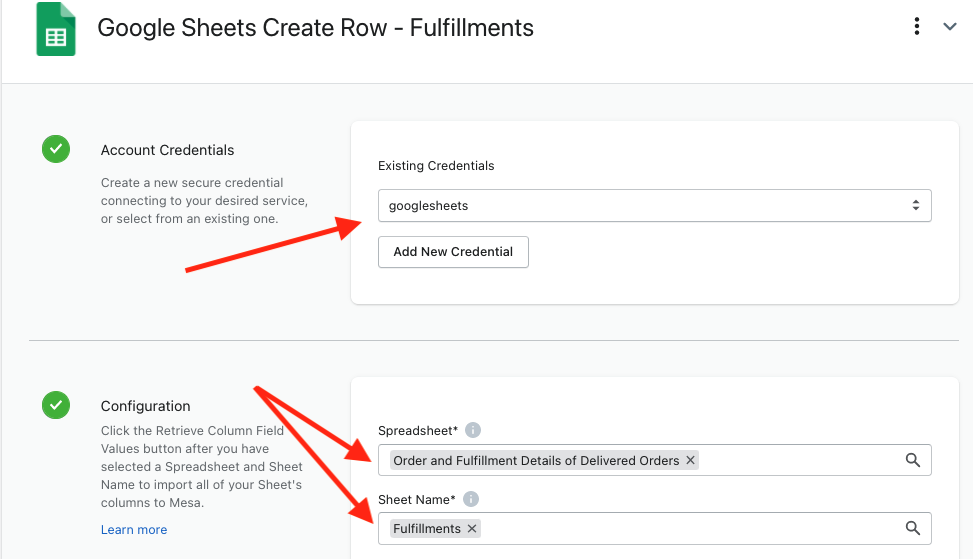 Almost there! For the Google Sheets Create Row – Orders step, you'll need to do similar to what you did for Google Sheets Create Row – Fullfilments, except this time you'll input "Orders" for the Sheet Name*.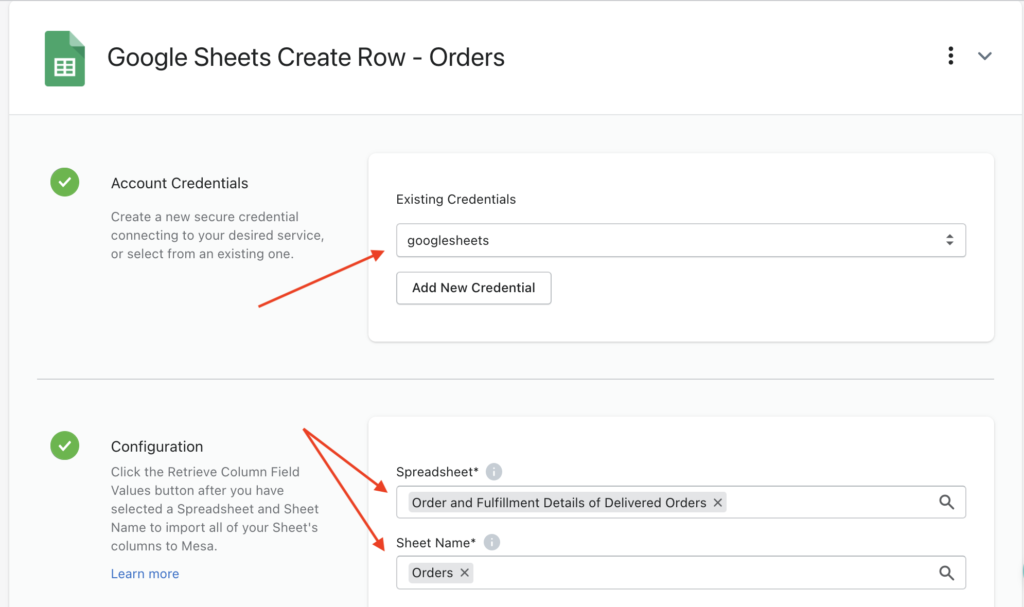 Last Step: The most important
4. Once complete, scroll back up to the top of the page and click the Enable button in the top right-hand corner.
Built-in Analytics
This workflow comes with some major added benefits. You'll now be able to dig into order and fulfillment analytics previously unavailable. Filter orders by the number of days and view graphs of shipping by country, state, or province:

The workflow can even break down the number of fulfillments by each carrier and the average number of days to delivery by carrier: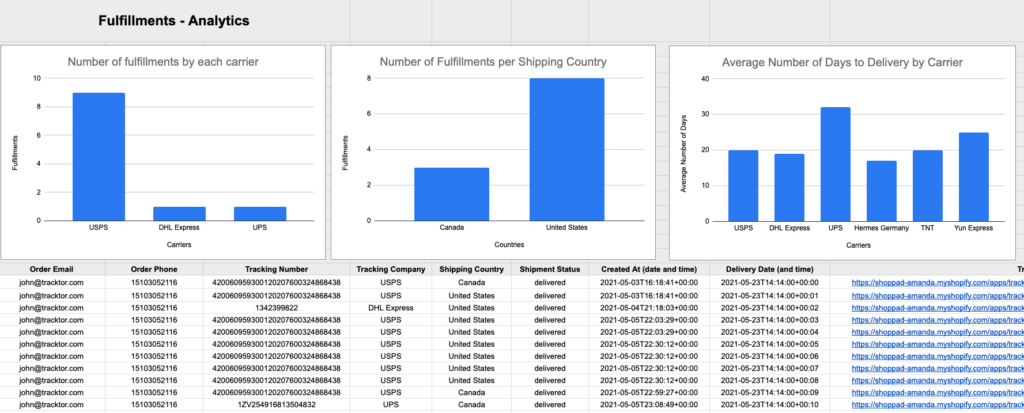 Workflow Wrap Up
Now each delivered product in Tracktor will have a new row added in Google Sheets with order details. Every step in the workflow is 100% customizable. Change an event, add a step before/after or adjust the default settings.
Your business thriving 24/7
Complete tasks accurately around the clock across any department.
Automate more with MESA
New Shopify Apps Weekly Newsletter
We watch for new apps then package them into an email sent every Tuesday.

Yopto
Marketing

Shopify
Commerce

Segment
Productivity

Infinite Options
Productivity

Slack
Productivity

Etsy
Commerce

Discord
Productivity

Bold Commerce
Commerce

Tiktok
Marketing

Airtable
Productivity