Every successful Shopify store owner will face the obstacles that come with business growth at one time or another.
With this growth comes increasingly complex business processes to handle the day-to-day tasks of running your store. What once worked for low volume sales will quickly become unmanageable.
Not to mention that keeping track of your data will become more challenging as your store scales into numerous locations or multiple platforms. There's simply too much manual labor at some point, which leads to inaccurate reporting and missed opportunities.
Use an ERP with Shopify
ERP stands for Enterprise Resource Planning, which may be the solution you've been looking for. All your management tools will integrate into a centralized platform using this type of software.
The main goal of any ERP is to automate and simplify cross-departmental tasks across your business while providing transparency at the same time. If you'd like to read more about ERPs, reference our previous post on the best Shopify ERPs in 2022.
One popular ERP among store owners is Odoo, an open-source ERP software that leverages developers and business experts worldwide to build an ecosystem of fully integrated business apps. In fact, it has over 30 main modules and more than 27,000 third-party apps available in its app store.
Odoo ERP is easy to use and combines wide-range functionality with powerful insights to give you an overall picture of how your business is doing. The platform also comes with various tools for managing all aspects of your business, from sales to warehouse management.
How to connect Shopify to Odoo ERP
Let's get started, the quickest way to integrate Shopify to Odoo is by using MESA. MESA also comes with pre-built integration with Odoo, making it even easier to create workflow automation between Odoo and Shopify.
Step by Step Instructions
When you're setting up your first workflow with Odoo, you'll need to add your Domain, Username, and Password so that Odoo can connect with Shopify within Mesa.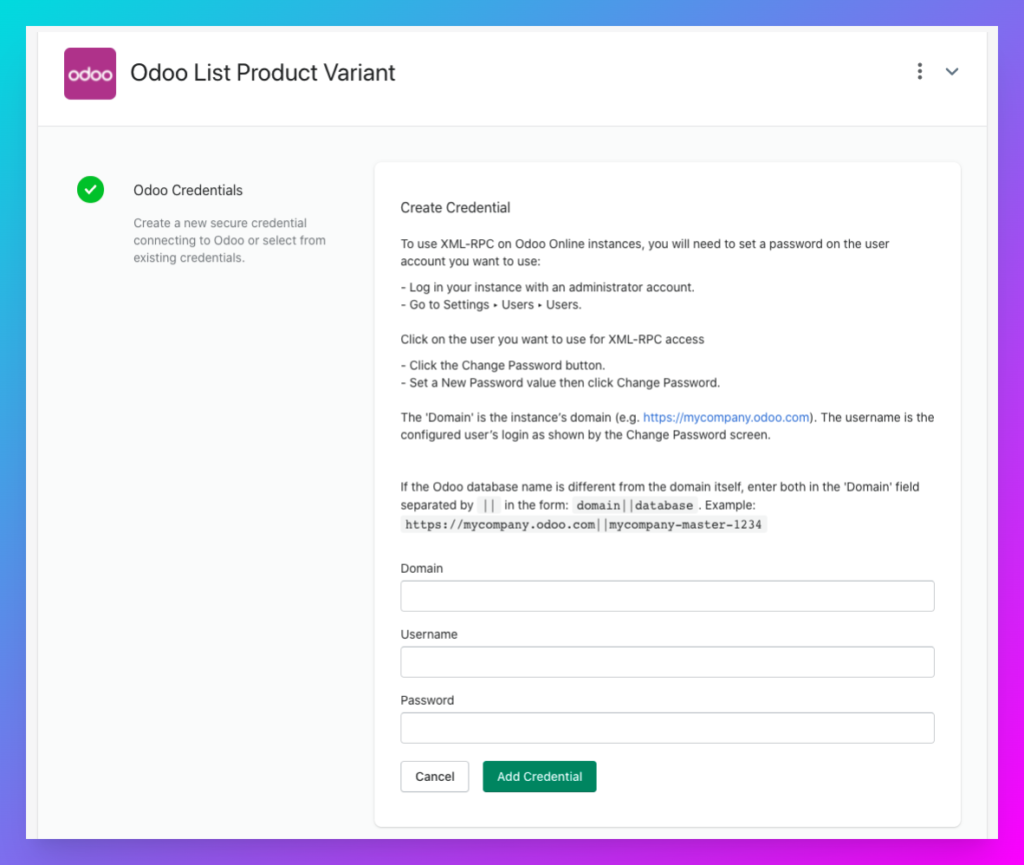 This can locate the Username and Password by clicking on Settings, from your Odoo Apps page.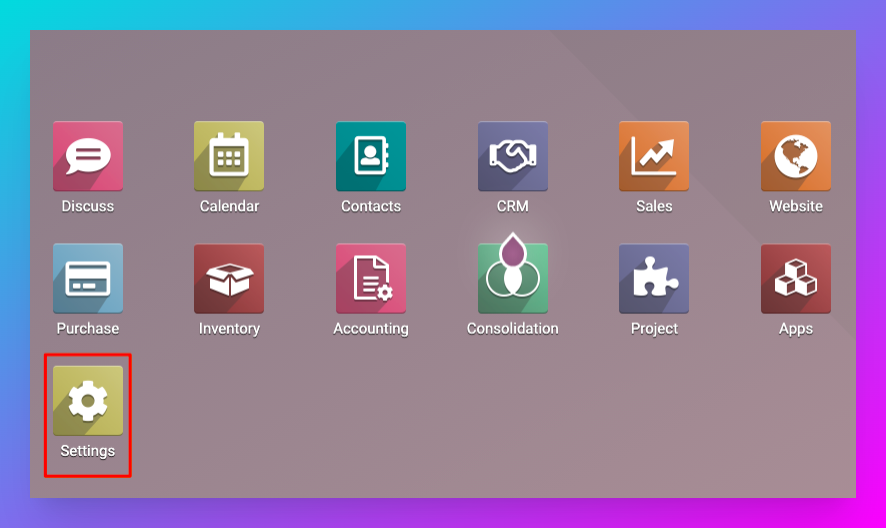 2. From Settings, locate General Settings and then Users. Click on Manage Users.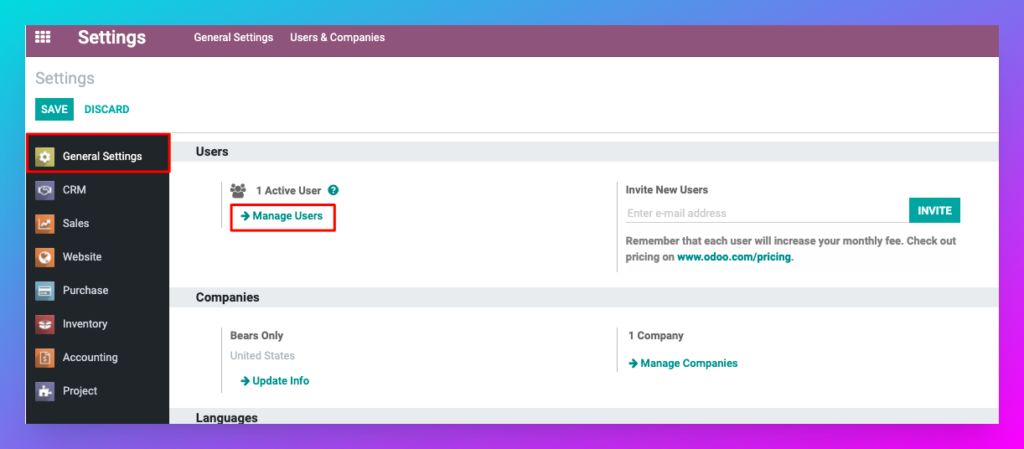 3. Select the checkbox next to the user that you want to connect MESA with. Then, click on Actions (gear icon) and then Change Password.

If your user does not have an existing password, enter a New Password and then Change Password.
If there is already a password set, copy the email address under User Login and paste it into MESA's Odoo Credential's Username field. Copy the user's password and paste it into MESA's Odoo Credential's Password field.

4. Once complete, the credential step in MESA should look like this: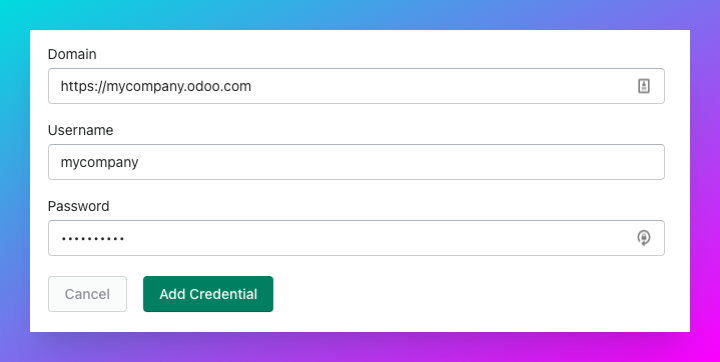 Currently, Shopify to Odoo is the only direction of data movement. For a full list of actions, reference the app listing page. Feel free to contact us if you want to be notified when Odoo to Shopify is available.
Once complete with your workflow, scroll back up to the top of the page and click the Enable button in the top right-hand corner.
MESA's Built-in Apps
MESA comes with a collection of built-in apps to help manipulate the outbound data from Shopify before it enters Odoo. You can use Transform by MESA to convert data from the previous step into a form that the next step expects or Loop by MESA to repeat the next step for each value identified in the step. With the Filter by MESA app, you can even pause any workflow, allowing you to double-check data before moving on to the next step. Visit our apps page for a full list.
If you're looking for where to start, we've got a handful of popular workflow templates for Shopify to Odoo integrations to help you along the way:
Every step in the workflow is 100% customizable. Change an event, add a step before/after or adjust the default settings. Give it a try with our 100% free 14-day trial.
Your business thriving 24/7
Complete tasks accurately around the clock across any department.
Automate more with MESA
New Shopify Apps Weekly Newsletter
We watch for new apps then package them into an email sent every Tuesday.

Yopto
Marketing

Shopify
Commerce

Segment
Productivity

Infinite Options
Productivity

Slack
Productivity

Etsy
Commerce

Discord
Productivity

Bold Commerce
Commerce

Tiktok
Marketing

Airtable
Productivity