No store can afford to ignore it: Amazon is the undisputed king of the eCommerce world. In 2018, the etailer surpassed $232 billion in net sales – up from $177.87 billion in 2017, $135.99 billion in 2016 and $107.1 billion in 2015, per Statista. As the number of buyers and sellers continues to grow on Amazon year after year, there is no clear end in sight to the company's dominance as an online marketplace.
As a Shopify store, though, why try to beat Amazon when you can join them?
Amazon offers its sellers a number of advantages:
An Amazon storefront gives you access to the millions of customers who shop on Amazon every single day, without having to do the work of generating that traffic. However, you're competing against many other brands selling similar products.
Amazon also takes care of logistics with its Fulfilled By Amazon (FBA) service. Once you have shipped your inventory to Amazon, the fulfillment centers will take care of the rest, processing orders and shipping them out with lightning-fast speed and efficiency. The centers also handle returns.
Amazon is a proven retailer that customers know they can trust, giving customers the confidence to buy a product from a company they may not have heard of before. That trust would take a long time to build from scratch.
Having said all that, Amazon does have a major downside for Shopify stores: most customers don't pay attention to third-party sellers. They are simply shopping on Amazon. And Amazon wants to keep it this way. The Terms of Service prohibit brands from including information about their own website or anything of the sort on listings, packing slips or invoices.
This is the fundamental difference between the two eCommerce options:
On Shopify, you and your brand shine through, but shipping logistics and customer acquisition are on you.
On Amazon, logistics and customers are taken care of, but your brand is lost in the fray.
Instead of picking one or the other, there is another option: get the best of both worlds by combining the two giants together.
How to Synchronize Your Amazon and Shopify Accounts
If you have a Shopify storefront and want to start selling on Amazon, the whole process of converting your products into Amazon listings can be done from Shopify. Before doing so, you will need to have a Professional Seller account with Amazon, and then you need to apply for category approval in the categories that you plan on selling in.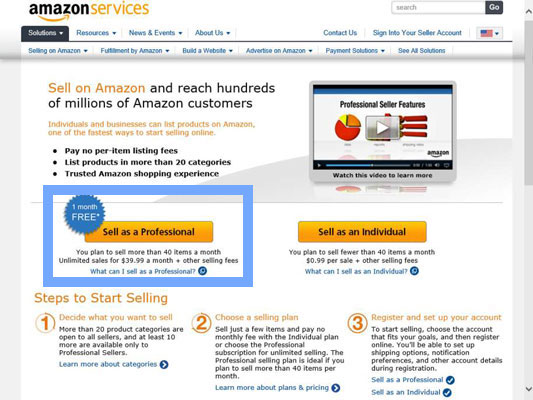 Once those criteria are met, you can add the Amazon sales channel to your Shopify store by selecting "Amazon by Shopify" from the online store menu. Once you agree to the terms and fees, you can proceed.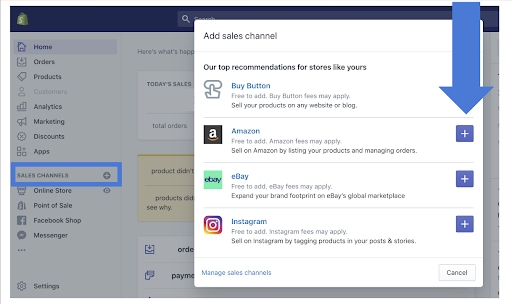 The next step is creating Amazon listings for your products. You may need a product identifier such as a UPC for your product if it's not already listed on Amazon or you are not an Amazon registered brand. Once you have created the listing (or claimed a listing that you already had on Amazon), it will be added to your Shopify store.

The last step is setting up what you'd like your inventory to be on Amazon. If you fulfill orders yourself, you can choose to leave your inventory uncapped. But it is important to remember if you choose this option that customer feedback on your store and product will be reliant on fast shipping times, so be sure you are ready to handle whatever inventory you set.
Bonus: Amazon to Shopify
If you currently have an Amazon store and want to start selling on Shopify, the first thing you need to do is build your website and set up your store. There are dozens of great themes to choose from; you can use the filters in the theme shop to narrow a design down to exactly what you are looking for to represent your brand. Themes come with a 14-day free trial, so you don't have to worry about having buyer's remorse if you choose one that turns out to not be the right fit.
There isn't any default way to seamlessly move inventory over from Amazon to Shopify like there is the other way around. Unassisted, this would be a long and tedious process. Fortunately, a Shopify app called ByteStand eliminates this hassle. Once you have signed up for ByteStand, you are just a couple of clicks away from transferring your inventory over to your Shopify store.
Final Thoughts
The process of combining your sales efforts across both Shopify and Amazon can be an expensive and intimidating one. It won't be right for everyone, and it is important for you to do your own research and to carefully study all of the fees and conditions before you decide if it is right for you and your business.
In the early stages of your brand, it might make sense to just use one or the other. Amazon is great for new businesses that just want to focus on sales and aren't too worried about building a brand right away. Conversely, Shopify is a great option for small businesses willing to put in the time to slowly and organically build up their brand before ramping up sales. Using these two eCommerce powerhouses in tandem is a powerful business move that can take your brand to the next level.
Your business thriving 24/7
Complete tasks accurately around the clock across any department.
Automate more with MESA
New Shopify Apps Weekly Newsletter
We watch for new apps then package them into an email sent every Tuesday.

Yopto
Marketing

Shopify
Commerce

Segment
Productivity

Infinite Options
Productivity

Slack
Productivity

Etsy
Commerce

Discord
Productivity

Bold Commerce
Commerce

Tiktok
Marketing

Airtable
Productivity